Open Studio Paint Days
Hey Austin, TX come paint pottery with us!
No reservation needed. Simply drop by during the scheduled times (see calendar) and paint or try your hand at clay building. It's that easy!
*NOV. & DEC. HOURS - Due to increased holiday production, we are not hosting any open paint dates the rest of 2023. Please be on the look out for January 2024 open hours or contact us to book your own private party.
Here's how it works:
1. Choose your piece

We have a variety of pottery to paint including coffee mugs, plates, vases, rainbows, pineapples, cactus and more. Contact us for something specific.

2. Paint & Create

Sit back relax and paint your pottery. We have over 30 different paint colors to choose from, tape and other fun tools to help you create something awesome.

3. Wait for the Magic!

Your pottery will be ready for pickup in 1-2 weeks. Don't worry we'll send you a message to let you know when you can come scoop it up.
DETAILS:
FAQs

What items can I paint?
How much does it cost?
Can I BYOB?
Where do I park?
How many people can come with me?

Find Out More in our FAQs ➡️

Where are you located?

Brush Strokes Pottery is located in the Thornton Art Studios off Oltorf and Lamar. 2311 Thornton Rd. (Suite N) Austin, TX 78704. We are down on the right side of the complex. Look for the neon green door!

Are Kids Allowed?

Yes! Kids are allowed but must be supervised by an adult at all times. No drop offs please.

We have plenty of small figurines coffee mugs and plates that are perfect for them to paint. Think Father's Day.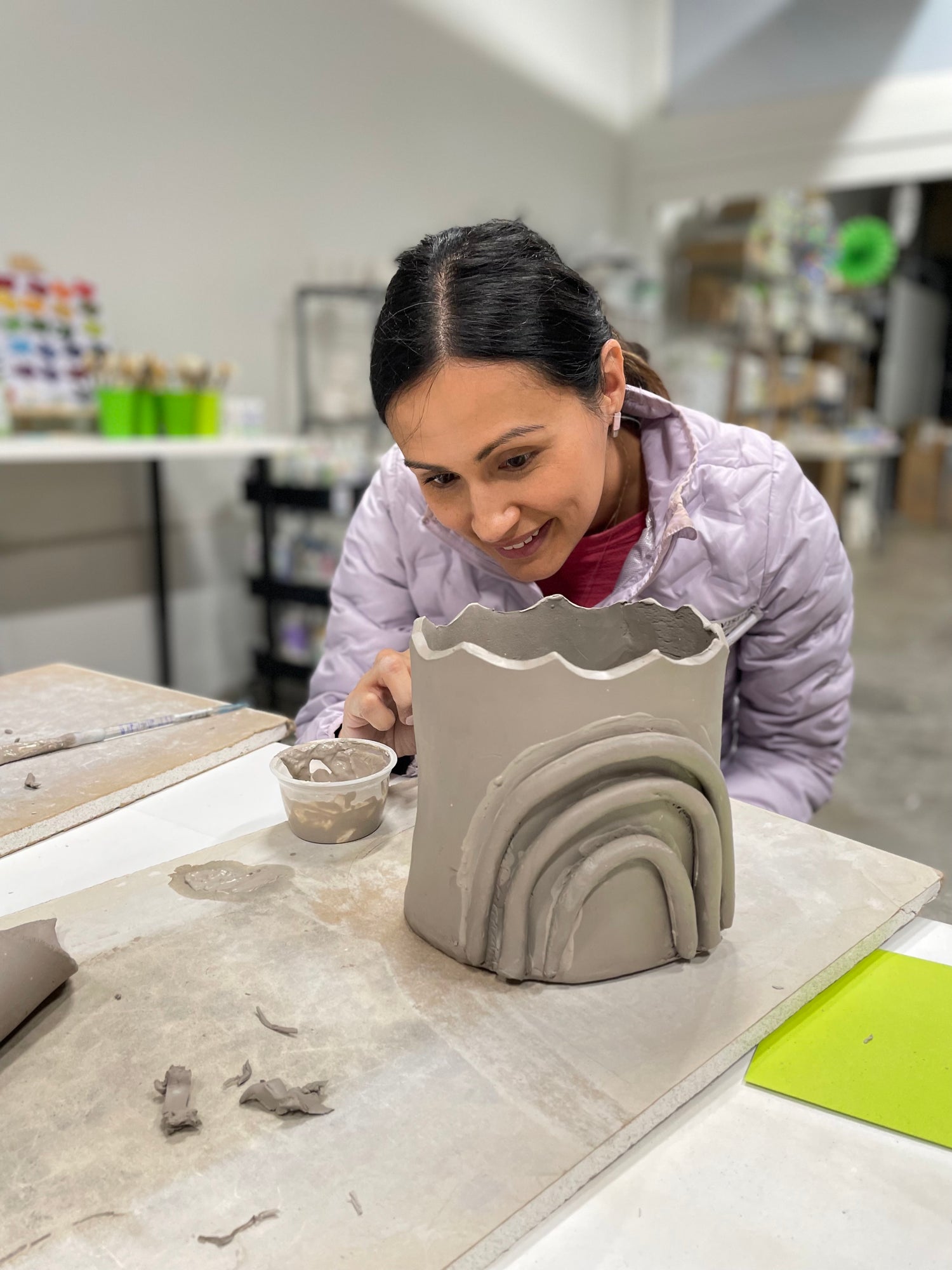 Open Clay Studio Details:
Ever wanted to try clay building?
Drop into one of our open Saturday events in Austin, TX to give it a try.
We'll walk you through the process and you'll be able to hand build your own pieces out of clay. Note this is hand and slab built. No wheel throwing.
Pricing:
$35 Kids trial (small clay portion)
$45 Adult trial (small clay portion - for 1 coffee mug or sm planter)
$65-75 Adult Clay (large portion for 2 planters or 1 large planter)
Ask Us More Questions